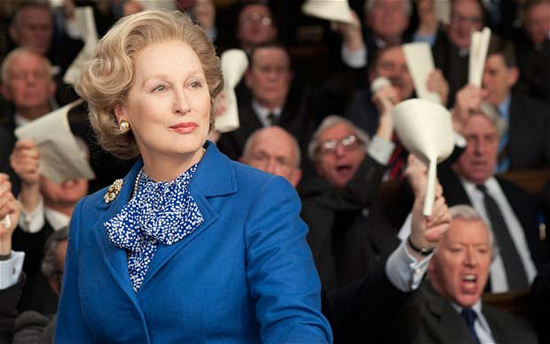 La brillante carrera fílmica de Meryl Streep la ha convertido en la actriz con el mayor número de nominaciones en la historia de los premios que anualmente concede la Academia de Artes y Ciencias Cinematográficas, 17, incluída la que acaba de recibir por la película que reseñamos, The Iron Lady.
Este reconocimiento ha sido muy bien ganado pues a lo largo de su casi cuarenta años de trayectoria cinematográfica, Meryl Streep se ha desempeñado con igual brillo tanto en papeles dramáticos, los máas numerosos, como filmes de acción y peligro al estilo River Wild o musicales como Mamma Mía, sin olvidarnos de las comedias The She Devil y de las cintas en que se desempeña en roles claramente desagradables como el asumido en Devil Wears Prada.
En The Iron Lady representa a la que fuera primera mujer en desempeñarse como primer ministro de Inglaterra en el período que media entre 1979 y 1992, La Thatcher no sólo fue sumamente influyente sino abiertamente controversial por su ejecutoria y adhesión a unas políticas conservadoras que ocasionaron despidos masivos, recortes presupuestarios y reacciones contrarias como, por ejemplo, su desición que la nación entrara en guerra con Argentina por la ocupación de las islas Malvinas (Falkland para los británicos), conflicto bélico que tomé lugar en 1982 y que concluyó con la recuperación de estas islas por parte de las fuerzas armadas de la Gran Bretaña.
La cinta, dirigida por Phyllida Lloyd (que previamente había dirigido a la actriz en Mamma Mía) presenta a través de contínuas vueltas atrás (flashbacks) el contraste entre una Thatcher envejecida, aquejada de locura senil y víctima frecuente de alucinaciones en las que creía conversar con su difunto esposo y la poderosa primer ministro de antaño. De ese modo y a base de ese contínuo ir y venir de la trama, Meryl Streep tiene la oprtunidad, que aprovecha espléndidamente, de poner en juego tanto su capacidad para asumir todo tipo de acentos como su extraordinaria capacidad interpretativa. Su caractarización de Margaret Thatcher resulta extraordinaria tanto por el parecido físico–obtenido con la ayuda del maquillaje, que le ha valido a su autor la otra nominación con que cuenta la película. La principal, la de mejor actriz protagónica, convierte a Streep en una de las cinco finalistas para la presea.
Filme, por tanto, que merece verse fundamentalmente por la actuación de Meryl Streep, The Iron Lady cuenta también con un acertado empleo de ciertas técnicas del cine, entre ellas la de ir y venir del presente problemático al pasado triunfante, logrando a través de la edición y con la correcta ambientación de época.