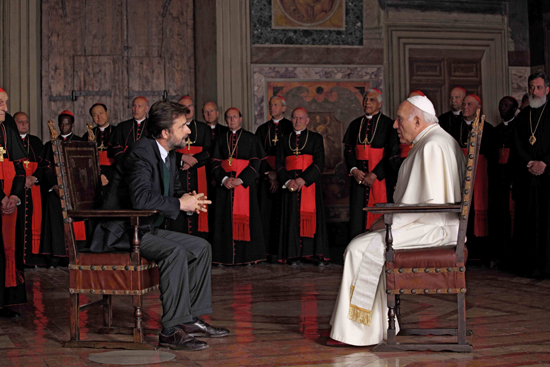 Nanni Moretti, director italiano, autor de películas como la polémica Palombella Rossa (1989) y la muy dramática The Son's Room (2001), y Michel Piccoli, actor francés de avanzada edad y larga filmografía en los cines europeos-sobre todo el galo, aúnan sus talentos en una coproducción titulada Papa Habemus ("We Have a Pope"), que acaba de estrenar.
La cinta pertenece al género de la comedia dramática, con más de lo segundo que de lo primero en razón de su tema y del conflicto que en ella se plantea.
Se trata de la elección de un nuevo Papa en la iglesia católica (tema visto anteriormente en la cinta norteamericana de 1968 The Shoes of the Fisherman, con Anthony Quinn y Vittorio De Sica asumiendo los roles principales) y de lo que parece no sólo improbable sino imposible: su súbita crisis de temor ante tal elección. La misma le impide asomarse al balcón de San Pedro para ser saludado por la multitud expectante y lo mueve, pese a los esfuerzos de los cardenales por brindarle ayuda (la presencia de un psiquiatra llamado con urgencia para atenderlo) a escapar e internarse en las calles de Roma. A partir de ese momento la película alterna entre las andanzas del Papa y los esfuerzos de los cardenales, aún en reclusión en el Vaticano.
Ambas líneas argumentales conducen a lo inesperado: la participación en un juego por equipos continentales de los cardenales, agrupados por el psiquiatra y el encuentro del Papa con una compañía teatral que aviva sus recuerdos de infancia y juventud en que le fascinó el mundo del teatro (¿ecos de la vida de Juan Pablo II?). La asistencia del Papa a la función teatral y la irrupción en la misma de los cardenales sirve de antesala al predecible final.
We Have a Pope, excelentemente interpretada por Piccoli, puede verse como una comedia que mueve tan solo a la sonrisa o puede descubrirse en sus diálogos un subtexto en el que se materializa el deseo del realizador de que la iglesia haga posible nuevas reformas que la lleven a la modificación de viejas prácticas y patrones de comportamiento en favor de una comunicación más amplia entre su jerarquía y los fieles.
Puede verse entonces esta cinta como una comedia amable con un tema diferente y logradas actuaciones o como un filme de intención crítica que aflora en sus diálogos y situaciones.
We Have a Pope se exhibe en versión original hablada en italiano pero con subtítulos en inglés.