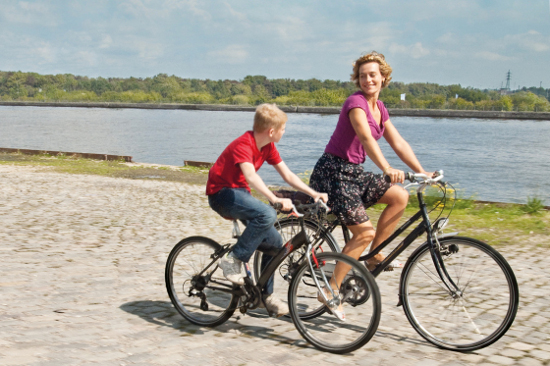 Jean Pierre y Luc Dardenne son dos directores belgas que han hecho en un breve período de tiempo una carrera fílmica jalonada por reconocimientos tan importantes como los recibidos por sus películas en el marco del festival internacional de cine de Cannes (Rosetta, uno de sus filmes, fue receptor de la Palma de Oro en dicha muestra de cine en 1999).
Sus películas son de pocos personajes, tocan temas de penosa actualidad y guardan cierta semejanza con aquellas célebres procedentes del Neorrealismo Italiano en la inmediata posguerra. Los filmes de los Dardenne se centran en problemas que afectan a los más indefensos y desamparados, bien por su extrema juventud (niños y adolescentes) o bien por las adversas circunstancias que se dan en sus existencias (inmigrantes, marginados). Los ejemplos de The Promise (1996), Rosetta (1999), The Son (2002) y The Child (2005) así lo confirman.
The Kid With a Bike, su más reciente producción, continúa con esta exploración y a la vez reitera las notas de su estilo fílmico que, pese a su sobriedad y esquematismo, resulta impactante. En The Kid With a Bike los Dardenne escogen como figura central a un chico de unos diez años, abandonado por su padre que en una escena memorable le hace saber que no lo busque más porque no quiere volver a saber de él ni que irrumpa nuevamente en su existir.
Cyril, nombre del personaje, vive recogido en un hogar substituto del que se escapa frecuentemente para vagar por el pueblo en que sucede la trama, primero en busca de su progenitor y, más tarde, en correrías que lo ponen en contacto con el cabecilla de una banda dedicada a robos y otras fechorías. Conoce también a Samantha, peluquera de la localidad que se convierte en su "hada madrina" al acogerlo en su domicilio los fines de semana. Comienza así una relación no exenta de dificultades ya que Samantha es quien se responsabiliza ante las autoridades por un primer robo perpetrado por Cyril, al salir garante del menor y comprometerse a pagar los daños ocasionados por su fechoría.
Estudio, por tanto, de una relación salvadora en la vida de un joven desafiante y temerario que reacciona así ante el abandono del que ha sido víctima, The Kid With a Bike es ejemplo de un cine de extraordinaria calidad. Esa calidad se hace notar en lo temático –la mirada a problemas muy reales del mundo en que vivimos- y en lo fílmico – su concentración en el joven protagonista en encuadres que excluyen todo lo demás, desprovistos de toda concesión glamorosa o sensiblera; la cortante edición, la sobriedad de las actuaciones o la utilización de la música de manera muy parca, ya que sólo se hace notar a la conclusión de secuencias claves, son de destacar.
Todo lo enumerado convierte a este estreno en uno relevante que nos aleja de las cintas de puro entretenimiento para ofrecernos, en vez, una visión muy auténtica de situaciones que aquejan a la sociedad contemporánea.
The Kid With a Bike se exhibe en versión hablada en francés, subtitulada en inglés.