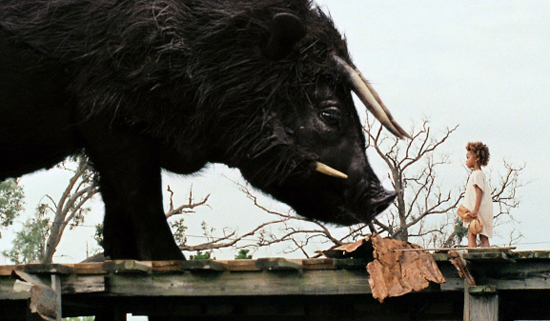 Combinación novedosa de película realista con aspectos y elementos de corte fantástico, Beasts of the Southern Wild se caracteriza por ofrecer una visión tremendista, ya experimentada antes a través de los noticieros alusivos a las terribles condiciones en que quedaron los supervivientes del húracan Katrina en la ciudad de Nueva Orleans y sus alrededores. En la película una niña de cortos años y su padre fungen de protagnistas.
Ambos habitan en una mal construída vivienda entre las aguas que rodean a Nueva Orleans y llevan una vida rudimentaria, que se distingue por la falta de recursos y las experiencias vitales, el contacto directo con la naturaleza y las especies que habitan en estas tierras pantanosas, frecuentemente invadidas por las aguas.
El padre, alcohólico y enfermo, trata de enseñarle a la pequeña lo necesario para su supervivencia, desde el atrapar peces de los que se nutren hasta las visitas en un bote tan rudimentario y destartalado como su propia vivienda, a los habitantes de la región que llevan una existencia similar, empeñados en sobrevivir a toda costa.
Los grandes sucesos dramáticos de la cinta vienen dados, de una parte, por los intentos de liberar las aguas detenidas, dinamitando una represa de las que se suponen protegen a la ciudad. De la otra, el "rescate de estas gentes y su condución a un centro de atención y cuido, produce en ellos el deseo de escapar, que se materializa, mostrándolos el filme maltrechos pero decididos en busca de su perdida libertad y de esa forma de vida, destinada a desaparecer o, cuando menos, a ser alterada radicalmente.
Ese realismo es parte integral de la película y se combina con lo alegórico-fantástico representado por la súbita aparición de unos animales pre-historicos, parecidos a los búfalos de antaño que vagaban por las grandes llanuras de los Estados Unidos y hoy casi extinguidos. Como la niña y su progenitor marchan a la deriva y la chica se asusta ante ellos hasta que a la conclusión de la cinta decidida y retadora, les hace frente en un postrer gesto de coraje.
Cinta extraordinaria no solo por su tema y su factura, Beasts of the Southern Wild es un proyecto independiente muy apartado de las películas al uso. Se distingue por su sabor ambiental, su visión de una vida muy apartada de la que conocemos y por la presencia, al frente de su reparto de Quvenzhané Wallis que interpreta el rol de Hushpuppy, esa niña cuyo rostro adquiere una expresión icónica, representativa de una comunidad que pese a los embates de la fortuna y a sus precarias condiciones de vida se dispone a sobrevivir con la valentía propia de los que no se rinden fácilmente. Junto a ella Dwight Henry, se destaca en el papel del padre, estando la dirección a cargo del joven realizador Benh Zeitlin.