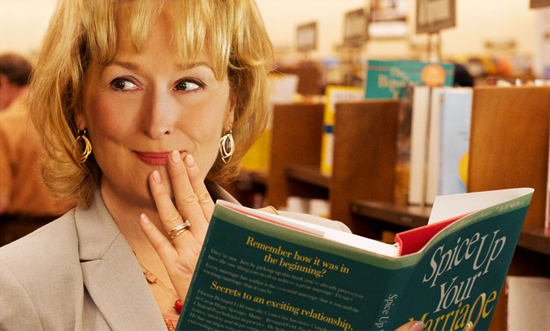 Hope Springs, la nueva película protagonizada por Meryl Streep y Tommy Lee Jones es, ante todo y sobre todo, ejemplo notable de actuaciones, pues este filme consigue entusiasmar a los espectadores con los incidentes de su trama gracias a la pericia interpretativa de ambas estrellas.
De la capacidad histriónica de Meryl Streep no hacen falta pruebas. Su carrera fílmica, iniciada en los años sesenta, la ha mantenido por espacio de 35 años entre las grandes intérpretes del cine. Versátil en grado sumo la Streep no sólo se ha convertido en la figura actoral con mayor número de nominaciones para los premios que anualmente concede la Academia de Artes y Ciencias Cinematográficas sino en receptora en tres ocasiones de dicho reconocimiento, la más reciente obtenida el pasado año por su papel de Margaret Tatcher en The Iron Lady. Con Hope Springs retoma la comedia sentimental desde una perspectiva dominada por lo sexual. Asume el rol de una esposa de mediana edad cuya monótona existencia junto a su esposo ha caído en la rutina que excluye todo contato sexual. Dispuesta a recuperar en ese terreno lo perdido se decide a visitar a un terapista (Steve Carrell) en el estado de Maine y lleva consigo, de muy mala gana, a su marido que se resiste a la experiencia.
El nucleo de la película descansa en las sesiones conjuntas con el terapista y en los intentos por seguir sus recomendaciones y cumplir con los ejercicios que les asigna.
Como en toda comedia se produce la crisis que esta a punto de terminar una unión matrimonial de más de 30 años. Todo, sin embargo, se resuelve satisfactoriamente para proveer al espectador del indispensable final feliz, tan característico del cine de Hollywood.
La cinta cuenta con la dirección de David Frankel, quien antes había tenido a su cargo esa misma función en otra cinta de Streep, The Devil Wears Prada. Frankel cumple satisfactoriamente con su encomienda pero la película descansa en la faena interpretativa de sus protagonistas, con Tommy Lee Jones destacándose tanto como la propia Meryl Streep, en el rol de ese marido taciturno y distante al que intenta recuperar de nuevo su compañera de tantos años en el terreno de lo íntimo y sexual. Steve Carell asume el tercer rol de relevancia, brindando una caracterización igualmente lograda.
Un festival de actuaciones es, por tanto, lo que define y distingue a este nuevo filme.