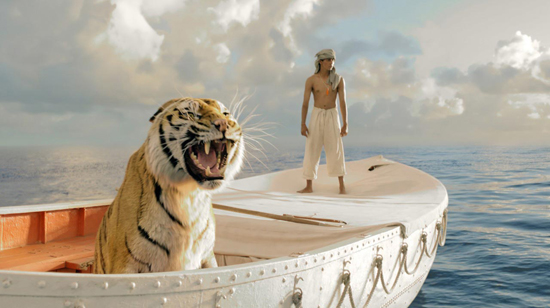 Por Luis Trelles
La búsqueda de un intérprete para que se haga cargo de un papel muy significativo en una super producción fílmica no es nada nuevo. Abundan los precedentes siendo quizás el mas famoso el de Scarlett O'hara, la figura central de Lo que el Viento se Llevó, rol por el que  compitieron las mas famosas estrellas del cine de su época, recayendo al fin la selección, ya comenzando el rodaje, en la actriz inglesa Vivian Leigh, caracterización que le valió el premio de la Academia de Artes y Ciencias Cinematográficas a la mejor intérprete femenina protagónica del año 1939.
Hoy a tantos años de distancia de esa búsqueda, la exhibición de Life of Pi, recuerda dicho proceso porque para escoger a su protagonista el director de la cinta- el taiwanés Ang Lee- realizó una amplísima búsqueda recayendo su selección en Suraj Sharma, un desconocido a quien se le  encomienda la nada fácil tarea de hacer absorbente en todo momento esta película.
Sharma encarna a Pi la figura central, cuyo nombre deriva de la palabra "piscine"en recuerdo de una piscina parisina. El joven lleva una existencia placentera en compañía de su familia en su India natal pero se ve sujeto a la peripecias de la emigración al decidir su padre radicarse en Cánada, llevándose consigo a los miembros del grupo familiar y también a algunos animales salvajes que formaban parte de su entorno, ya que era dueño de un zoológico.
El subsiguiente naufragio del barco en que viajaban provee a la cinta con una de sus mejores secuencias en lo  tocante a su intensidad dramática y fuerza expresiva. Esa catástrofe deja como sobrevivientes a Pi y un cuarteto de animales salvajes formado por una  cebra, una hiena, un orangután y un tigre hacinados todos en un  bote -salvavidas.
Pi se las ingenia para sobrevivir y mantener a distancia al temible animal y el tigre acaba por convertirse en su compañero en esa odisea marítima.
A nivel superficial el ambiente exótico y la tumultuosa travesía son los que atraen al espectador a la película; a nivel espiritual el filme ofrece otro foco de interés. Viene representado por la búsqueda de Dios. Atrae a Pi desde su niñez y así se expone a las grandes religiones mundiales como el cristianismo y el islamismo y también a las creencias de hinduismo para terminar teniendo la experiencia de ese encuentro, precisamente a través de la naturaleza, en la difícil  situación en que se encuentra.
Proyecto que el propio autor del libro en que se basa el filme consideraba "ïnfilmable"', Ang Lee consigue lo que parecía imposible, llevarlo al cine pese a los obstáculos que tuvo que superar en tal empeño y nos ofrece una hermosa cinta, avalada por una esplendida fotografía.
Life of Pi es una cinta diferente por lo retadora que resulta, en la que su realizador consigue ofrecernos un filme que sobresale en lo temático y en lo formal.