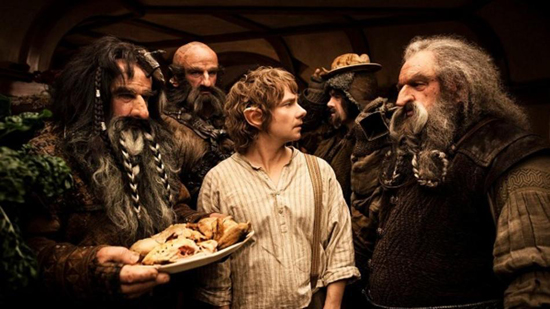 Por Luis Trelles
¿Quién duda de que el cine está grandemente endeudado con la literatura? Son incontables las películas que se basan en obras literarias y, para probarlo, basta pensar que dos de los estrenos de esta Navidad se inspiran en tales obras, Los miserables, transposición al medio fílmico de una obra musical que a su vez se basa en la novela de Víctor Hugo del mismo nombre y The Hobbit, cuyo argumento procede del libro The Hobbit, escrito por el novelista británico, J.R.R. Tolkien, publicado bajo ese título en el año 1937. Tolkien también es el autor de la trilogía de Lord of the Rings, difundida en los años 1954 y 1955. Todas estas tramas, a su vez, se inspiran en historias fantásticas con las que entretenía a sus hijos cuando eran pequeños.
El cine, gracias al realizador neozelandés Peter Jackson, se ha servido de estas obras de ficción provenientes de la pluma de Tolkien y las ha convertido en cintas apoteósicas, de acción casi contínua y prodigiosos efectos especiales, sirviéndose además de su tierra natal, Nueva Zelanda, para ambientarlas.
The Hobbit como película antecede a la trilogía del Seños de los anillos y viene a ser una "precuela" de la misma ya que nos muestra el modo como Bilbo Baggings, el hobbit del título, abandona su pacífica existencia en la idílica "comarca" en que vive para acompañar al mago Gandalf, a Thorin y a los trece enanos que lo acompañan en una aventura sin precedentes. Se internarán por remotos pasajes y afrontarán crisis tras crisis enfrentándose a todo tipo de opositores y saldrán indemnes de las mismas, pese a ser tan pocos y, para complicar aun más las cosas, de tan reducida estatura.
Los mueve el deseo de encontrar la alta montaña en que habitaran en un momento indeterminado de la "Media Tierra", que se dice existió en la época pre-histórica.
El relato de Tolkien se  convierte gracias al director Jackson y a un enjambre de colaboradores que aportan al filme tanto los numerosos efectos especiales utilizados, como las máscaras y aspectos de los enemigos del grupo, todo ello con la ayuda de un cuantioso presupuesto puesto al servicio de una fantasía épica. El filme, en efecto, tiene tanto de fantástico como de épica violenta, al estilo de lo que se acostumbra a ver hoy en este género.
Hecha posible con el aporte de actores ya conocidos del público por sus contribuciones a la trilogía mencionada, merecen destacarse Ian McKellen que reasume el papel del mago Gandalf y Martin Freeman que se encarga del personaje del hobbit, cuya presencia al parecer gratuita en una cinta tan llena de violencia e incidentes fantásticos (que mal cuadran con su aspecto pacífico y su ordenada y tranquila vida pasada) se justifica plenamente a la conclusión de la película.
De larga duración (más de dos horas y media), exhibiéndose tanto en trecera dimensión como en forma tradicional y con extraordinarias secuencias de movimiento incesante, ritmo creciente y aparatosos efectos especiales, The Hobbit gustará sobre todo al público juvenil al proporcionarles hazañas y aventuras a granel.