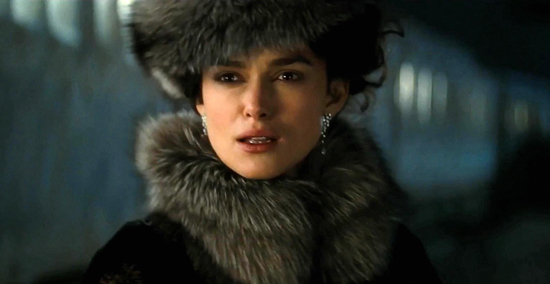 Por Luis Trelles
Hay dos maneras de trasladar al cine una obra literaria: con el respeto, que puede ser absoluto, por el texto filmado (el caso de Lucino Visconti cuando llevó a la pantalla la novela de Albert Camus, El extranjero o la audacia, que puede no conocer límites, de hacer algo distintivamente fílmico de la obra adaptada, el supuesto de Orson Welles con su transpoición al medio de la novela de Booth Tarkington, The Magnificent Ambersons, o sus versiones de obras de William Shakespeare como Otelo, por ejemplo).
La nueva versión de la obra escrita por Leon Tolstoy entre 1873 y 1876 se inserta en el segundo grupo. No es la primera vez que el cine se ha sentido tentado por el clásico del maestro ruso. Existen precedentes ilustres por el rango de las actrices que interpretaron ese papel: Greta Garbo en la versión norteamericana de los años 30 y Vivian Leigh que asumió el rol en los años 40.
En todo caso esta nueva aproximación a Tolstoy y su leída novela lleva como interprete central a Keira Kightley, joven actriz que se destaca en el panorama fílmico actual. Asume el papel acompañada por Jude Law en el rol de su esposo, Karenin, y de Aaron Taylor-Johnson que se ocupa de interpretar al conde Vronsky, amante de Anna y por el que esta abandona su hogar y se ve, más tarde, sumida en la desgracia, imposibilitada de ver a su hijo y rechazada por la sociedad.
La nueva versión, bajo la dirección de Joe Wright (Pride and Prejudice, Atonement) se distingue por sus excesos y su afán de hacerse notar y será recordada más que como una adaptación literal del texto de Tolstoy como una audaz obra fílmica de Wright.
Sitúa el ambiente del filme en el interior de un teatro, sirviéndose de su decorado que representa algunos de los escenarios en que se mueve la trama. Abre, por así decirlo, el relato fílmico sacándolo a veces de ese escenario teatral. En otras ocasiones mueve a sus personajes por el interior del teatro y es allí donde se desarrollan episodios significativos de la novela.
No solo es audaz la película-que distrae por el esplendor de sus puesta en escena- del sentido último de la novela sino que la transforma radicalmente presentando a una Anna Karenina encinta del conde Vronsky y a un Karenin sumamente paciente y aún benévolo, que dista mucho de la interpretación clásica del mismo, la ofrecida por Basil Rathbone en la versión protagonizada por Greta Garbo, más acorde con el texto, ya que no debe olvidarse que la novela está situada a mediados del siglo XIX en Rusia, en una época en el que el adulterio femenino era duramente castigado como el ejemplo de esta protagonista claramente manifiesta. Más aun pues el personaje de Anna no sólo resulta desafiante en aras de un amor considerado culpable, sino contradictorio tal como se muestra en esta versión.
Estamos pues ante una Anna Karenina "diferente" y esa diferencia intenta beneficiar a Joe Wright, director de la cinta.
Por último, esta nueva versión de Anna Karenina compite por los "'oscars" que se adjudicarán el entrante 24 de febrero en las categorías de cinematografía, diseño de producción, diseño de vestuario y música (mejor partitura original).