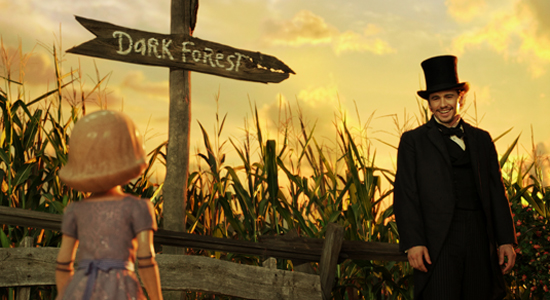 El año 1939 se recuerda en cine por la abundancia de películas que se estrenaron en esa oportunidad y que, con el pasar de los años, se han vuelto memorables. Basta pensar en Stagecoach (La diligencia), "western" por excelencia de John Ford que recrea las tensiones y dificultades que surgen entre los pasajeros de una diligencia en peligro de ser atacada por los indios en el lejano oeste; Gone With The Wind ( Lo que el viento se llevó), evocación fílmica del sur de los Estados Unidos antes, durante y después de la guerra de secesión y de su tormentosa heroína o The Wizard of Oz (El mago de Oz) con su mundo mágico y espectacular y cinta que hizo de Judy Garland, la jovencita del estado de Kansas que resulto transplantada al universo de Oz, una popular estrella del medio fílmico.
El mago de Oz y su mundo vuelven a la pantalla a través de la película que reseñamos. A mas de 70 años de The Wizard of Oz, Oz: The Great and Powerful lleva como protagonista a James Franco, quien bajo la dirección de Sam Raimi, recrea al personaje central y lo sitúa en ese fabuloso entorno, hecho posible con la ayuda del formidable aparato de efectos especiales de que dispone actualmente el cine americano.
La película no es una secuela de The Wizard of Oz sino una combinación de tan mítico universo. Fue creado por L. Frank Baum, periodista, dramaturgo y autor de libros juveniles, a cuya autoría pertenecen los 14 libros que giran en torno a Oz.
El guión en que se basa la cinta combina diferentes posibilidades que unidas a su larga duración, hacen de este filme uno no sólo complicado sino recargado y de altibajos manifiestos. Oz: The Great and Powerful parece prometer a sus inicios una película interesante en torno a su personaje central.
La cinta comienza en blanco y negro ya que la acción se sitúa en el año 1905 y en el estado de Kansas. Allí Oscar, un busca-vidas que se hace pasar por mago enfrenta una situación doblemente difícil, con los asistentes a su espectáculo que se sienten  engañados y con la joven a la que parecía querer. Escapa de las mismas y llega al reino de Oz, donde conocerá de nuevo la atracción romántica y enfrentará a las dos brujas malvadas que pretenden destruir a los buenos habitantes de Oz.
Como consecuencia de tantas posibilidades temáticas el filme alterna entre las secuencias de dinamismo y espectacularidad, presididas por la abundancia de efectos especiales y aquéllas otras que se centran en lo romántico, demasiado prolongadas y estáticas, Un final apoteósico le da su conclusión.