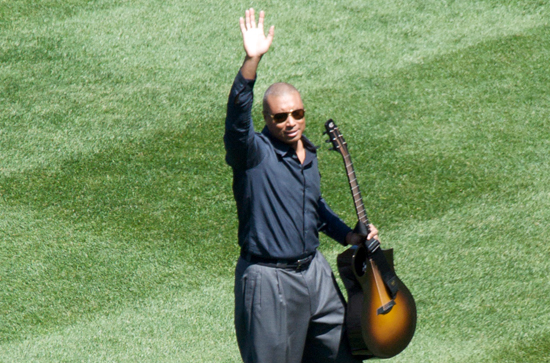 Bernie Williams es mejor conocido por su carrera como pelotero de los Yankees de Nueva York, pero desde pequeño la música fue parte integral de su formación personal y escolar.
En esta entrevista en Sarabanda, conocerás detalles de su etapa profesional como músico y sobre su presentación musical en el Teatro Tapia en San Juan el 10 y 11 de mayo. El concierto dará la oportunidad al público de presenciar la vena sonora de Williams junto a artistas del calibre de Paoli Mejias, Rubén Blades, Brenda Hopkins y Humberto Ramírez.
La conversación fue parte del cierre del Festival de Radioamigos que realizamos del 1 al 5 de mayo para fortalezer nuestro fondo de programación.
En el siguiente video, Bernie Williams interpreta "Take Me Out to the Ball Game" mientras se aprecian imágenes de su carrera como pelotero de Grandes Ligas:
_______________________________________________________________
Sarabanda se transmite todos los miércoles a la una de la tarde y repite los domingos a las nueve de la mañana por el 89.7 fm San Juan, 88.3 fm Mayagüez y por radiouniversidad.pr.