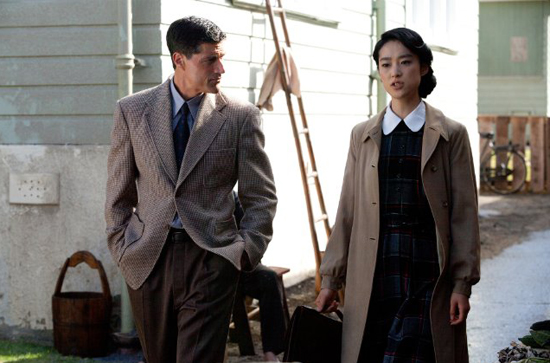 Hiroito, emperador de Japón, se vuelve figura importantísima para la película titulada Emperor. Ese filme recoge a través del cine el dilema que se le presentó al general MacArthur tras la rendición de esa nación asiática, con la que quedó concluida la Segunda Guerra Mundial. Se insistía en que el emperador japonés debía ser juzgado como criminal de guerra y eventualmente ejecutado.
Para averiguar -en un brevísismo plazo de tiempo- cual había sido en realidad la postura asumida por Hiroito en lo concerniente al ataque sorpresivo a Pearl Harbor y en la prosecución del conflicto con los Estados Unidos, MacArthur escoge a uno de sus generales, Bonner Fellers, para que se encargue de esta investigación.
Dicho general conocía al japón de primera mano como consecuencia de haberse enamorado de una joven japonesa, estudiante en la nación norteamericana a comienzos de los años treinta. Inclusive la visitó poco antes de estallar el conflicto y conoció a su tío, importante figura militar del país.
Su búsqueda, que asume caracteres angustiosos ante el temor de que la chica hubiese muerto como consecuencia de los ataques aéreos de los Estados Unidos, termina trágicamente.
No sucede así, sin embargo, con el destino final del emperador que pudo continuar en el trono como resultado del informe rendido por el oficial en cuestión.
Emperor es una película de doble vertiente. Por un lado está el proceso de localización y asignación de responsabilidades a los altos mandos político y militar de la nación, seguido por el investigador a fin de poder entrevistar a algunos de ellos y dilucidar a través de sus testimonios cuál fue la verdadera posición asumida por el emperador.
Lo que saca en claro el general investigador es que fue el propio Hiroito el que decidió la rendición incondicional y así se lo comunicó a la nación a a través de la radio. Con ello le ahorró tanto a sus súbditos como a la fuerza norteamericanas innumerables vidas.
La otra vertiente es la romántico-sentimental que concierne al protagonista y a la joven japonesa de la que se enamora. Evidentemente el primer conflicto tiene mucho más fuerza e interés que el segundo que resulta, por comparación, de poco peso.
Pese a este lastre, Emperor resulta absorbente de ver y de seguir y le permite a Tommy Lee Jones ofrecer una vez más una caracterización de gran intensidad en el papel de MacArthur. El gran protagonista del filme, lo es, sin embargo Mathew Fox.
La dirección corre a cargo de Peter Webber, realizador de The Girl With a Pearl Ring y la película, como un todo, nos aparta del bombardeo casi contínuo de cintas de fantasía desbocada y violencia sin freno. Recibimos en vez un relato basado en la historia reciente y sus dramáticos desarrollos.