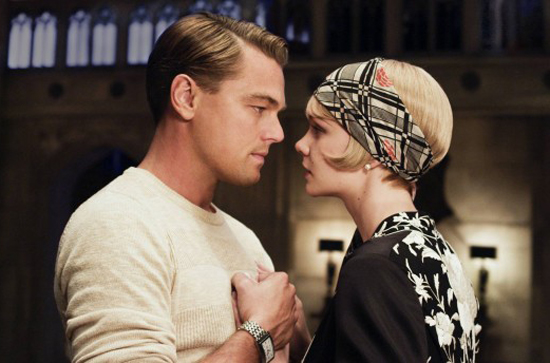 La novela de F. Scott Fitzgerald, The Great Gatsby, retrato de una época y del tipo de existencia que se llevaba por sectores afluyentes de los Estados Unidos, ha sido llevada al cine en varias ocasiones. Recordamos, por haberlas visto, las dos versiones sonoras anteriores a esta nueva aproximación al texto de Fitzgerald: la de 1949, en blanco y negro, de modesto presupuesto y presencia protagónica de Alan Ladd y Betty Field y la más próxima a nosotros en el tiempo, la opulenta y a colores The Great Gatsby que data de los años setenta y cuyo guión se debió a Francis Ford Coppola. En ella Robert Redford y Mía Farrow asumían los roles centrales caracterizando a Jay Gatsby y a Daisy Buchanan. Ninguna fue muy aclamada por la crítica que quedó insatisfecha con ambas.
Hoy, en la era de la tercera dimensión digital y los proyectos más costosos que nunca, llega a nuestras salas de cine esta tercera versión, trabajada con ese nuevo desarrollo tecnológico en mente y que se manifiesta poderoso en la cinta. La película ha contado con la dirección de Baz Luhrman, director australiano, casado con la diseñadora de vestuario, Catherine Martin y realizador cuya fama descansa en sus nuevas versiones de Romeo y Julieta y Moulin Rouge, caracterizadas por lo excesivamente llamativo de sus presentaciones.
Sabiendo, por tanto, que Luhrman es el director de The Great Gatsby y conociendo su afición desmedida por llamar la atención a base de la puesta ante las cámaras de sus proyectos fílmicos, no cabe extrañarse de que esta nueva aproximación sobresalga y se distinga por la aparatosa mostración de las multitudinarias fiestas que Fitzgerald describe en su texto y que hicieron de Gatsby un personaje famosos, pese a desconocerse todo sobre su pasado, envuelto en un misterio que el propio Gatsby se ocupaba de mantener.
Gatsby, sin embargo, tiene una gran falla, su romántica pasión por Daisy, lo que lo mueve a intimar con Nick, primo de ésta y su vecino. Se enamoró de ella en su juventud. Daisy, sin embargo, esta casada con Tom Buchanan, millonario de Chicago, que la descuida entrando en una relación extra-matrimonial con una mujer de otra condición social, relación que precipitará el final trágico de la cinta.
Esta nueva versión de Gatsby transita por un territorio bastante hollado por el cine y se distingue en especial por la sucesión de fiestas en las que abunda el desenfreno, por lo que el romance de Daisy y Gatsby tarda en hacerse presente en la película. Cuando lo hace, domina el relato y le da la oportunidad a Leonardo DiCaprio, que sume el papel de Gatsby, de tener más impacto en el plano dramático.
Carey Mulligan como Daisy y Joel Edgerton en el rol de su esposo Tom enfatizan más bien lo sexual y pasional de sus personajes y entre todos los intérpretes principales es Tobey Maguire como Nick, el primo de Daisy y admirador de Gatsby, quien más sobresale, fungiendo del narrador que a través de vueltas atrás ( flash-backs) recuerda a Gatsby y a ese tiempo en que vivió tan intensamente.