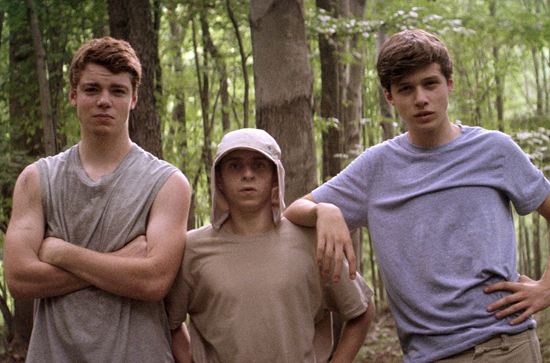 El proceso de crecer, de pasar poco a poco de la niñez a la edad adulta que llamamos adolescencia, constituye la razón de ser de la película de estreno titulada The Kings of Summer. Sus personajes centrales son tres jóvenes que encabezados por Joe ( Nick Robinson), se deciden a vivir en el bosque abandonando sus hogares y sus familias, Integran el grupo más de Joe, Patrick (Gabriel Basso), su mejor amigo y Biaggo ( Moises Arias).
Joe y Patrick por razones diferentes desean apartarse de sus progenitores, el primero porque su padre viudo, inflexible y autoritario, choca de contínuo con él y el segundo por la razón opuesta, recibe demasiada atención de sus padres. Biaggo es el menos trabajado por el guión que no ofrece razones para su alejamiento del hogar familiar y lo muestra no sólo diferente- es diminuto y debilucho- sino dado a numerosas excentricidades que contrastan con la conducta más natural de sus amigos.
Obra de Jordan Vogt- Roberts, el guión provée al filme tanto momentos cómicos como situaciones muy tensas como la representada por el ataque de una serpiente que se ha introducido en la vivienda colectiva y está a punto de morder al joven.
The Kings of Summer es una cinta representativa del cine independiente norteamericano, aquél que se hace al margen de Hollywood y carece tanto de grandes valores de producción como de un reparto estelar.
Es también un filme que parece combinar algo del espíritu de Henry David Thoreau, escritor norteamericano famoso por su obra, Walden, en la que exalta los valores asociados a una vida al margen de lo colectivo y citadino para alabar la existencia rústica con su sencillez y naturalidad.
Al ser, sin embargo, una película de nuestro tiempo, The Kings of Summer ofrece una visión muy contemporánea de la juventud. Se muestra en una secuencia inicial en que el grupo juvenil se entrega a la disipación, bebiendo sin control, lo que provoca la ira de un vecino molesto con tal conducta.
De ritmo pausado, necesitada de mayor fuerza salvo a su conclusión, pictóricamente destacada por la belleza de algunos de sus encuadres y con convincentes actuaciones rendidas tanto por el trío de protagonistas como por el actor Nick Offerman, que se hace cargo del papel del padre de Joe con gran intensidad, el filme también utiliza a los personajes principales en grandes planos cercanos a sus rostros. Se dota así a la película de una presentación que resulta novedosa.