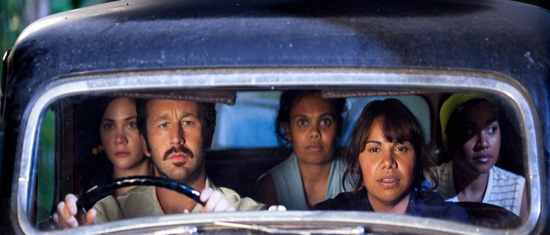 Se titula The Sapphires pero pudo llamarse "Aborígenes en Vietnam" título que se referiría a la trama de esta película de estreno, que reseñamos. Semejante título revelaría tanto la identidad de los protagonistas como el lugar del mundo donde se desarrolla gran parte del argumento.
Las protagonistas del filme son cuatro aborígenes australianas, dotadas de buenas voces. Ellas responden al anuncio publicado en un diario de que se busca un conjunto vocal para trasladarlo a ese país del sureste de Asia afligido entonces (año 1963) por la guerra que en su territorio se libró entre Vietnam del Norte y Vietnam del Sur.
Unos datos iniciales informan a los espectadores- caso de desconocerlo- que en Australia sus primeros pobladores- los aborígenes- no fueron reconocidos como ciudadanos de la nación hasta 1967 y, mucho más tarde, se acabó con la odiosa práctica de arrebatar de las reservas de indígenas a los niños de tez menor oscura para criarlos lejos de sus casas entre la mayoría blanca de la nación.
Estas cuatro figuras en que se centra la película no sufrieron la misma suerte pues una de ellas se crió entre los ingleses.
La reunión de todas proporciona una de las varias crisis que afloran de vez en la cinta y que tienen como finalidad mantener el interés del público más allá de los frecuentes números musicales que interpretan.
También se hace muy presente en este filme el conflicto vietnamita que pone a las jóvenes en peligro y que, inclusive, fuerza su evacuación del área donde se libra la guerra, a más de proporcionarles intereses románticos a tres de ellas.
Cinta australiana, su interés para el público a más de su nacionalidad (vemos pocas cintas de esa procedencia) radica en el precedente establecido por esa cinematografía hace más de 30 años cuando se dio a conocer a través del circuito de festivales internacionales de cine lo que se dio en llamar el "nuevo cine australiano". Estaba formado por figuras como Peter Weir o Bruce Beresford que dirigieron filmes al estilo de Picnic at Hanging Rock (Weir) o Breaker Morant ( Beresford) entre otros.
The Sapphires ciertamente no está a la altura del movimiento mencionado y de sus personajes y películas más destacadas. Su director, Wayne Blair, no es ni un Peter Weir ni un Bruce Beresford y su cinta, agradable de ver, responde a una fórmula, la del género musical con su cuota de crisis dramáticas. El filme alcanza su máximo interés cuando deja ver los aspectos negativos de la política de exclusión contra los aborígenes o el horror que fue la guerra de Vietnam.