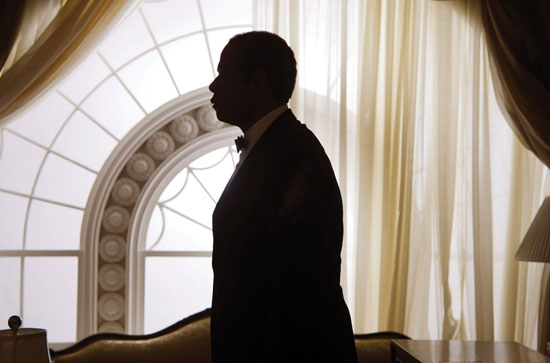 Más de 80 años de la vida de un mayordomo afro-americano desfilan por la pantalla en The Butler, la cinta dirigida por Lee Daniels de cuyo reparto forman parte intérpretes afro-americanos como Forest Whitaker, Oprah Winfrey, Cuba Gooding, Jr. y Terrence Howard así como actores y actrices muy vistos a través de los años: Vanessa Redgrave, Jane Fonda, Robin Williams y John Cussack. Aparecen en roles principales los cuatros inicialmente nombrados en tanto que los otros se desempeñan en papeles secundarios.
Whitaker es el que asume el papel del mayordomo a que alude el título. Es a través de sus recuerdos, que se remontan al año 1926, que conocemos su historia.
Nacido en Macon, Georgia debe trabajar para un amo brutal desde temprana edad en la recolección de algodón y es así como conoce del abuso sexual perpetrado contra su madre y del asesinato de su padre a manos de ese terrateniente blanco. Al crecer huye y sufre hambre y miseria hasta que las circunstancias cambian para él y al entrar a servir como mayordomo en la Casa Blanca. Su vida personal tampoco está exenta del sufrimiento y de las desgracias que la cinta explícita: dificultades con su esposa en el ámbito conyugal, incomprensión y rechazo procedentes del mayor de sus hijos.
El tema de The Butler despierta el interés dado lo diferente de su trabajo que le permite relacionarse con los presidentes norteamericanos que se han sucedido en tan alto cargo desde Eisenhower hasta Obama en nuestro tiempo.
A la vez que se desarrolla la trama se materializan en el filme eventos claves de la lucha por la igualdad en los derechos civiles de la población negra del país, contraponiéndose dos posiciones muy contrastantes: la actitud de sumisión y su hijo primogénito. Este opta primero por la causa representada por Martín Luther King y, más tarde, se decide por la muy violenta que tuvo en Malcolm X y el movimiento de las Panteras Negras, sus máximos representantes.
El filme considerado en su totalidad, es desigual, ya que alterna entre secuencias muy poderosas como la inicial que presenta el abuso y la brutalidad ejercida contra los negros en el sur de la nación o la muy intensa del altercado entre el padre sumiso y el hijo combativo, combinándolas con otras de menos fuerza y obvio sentimentalismo.
The Butler es una película que cuenta con la presencia de tantos intérpretes famosos, que resulta evidente que unas actuaciones impresionen más que otras.
Así entre las protagónicas , Forest Whitaker se destaca sobremanera por la sostenida sobriedad y contención de su caracterización. El rol de Oprah Winfrey, en cambio, no resulta bien definido por el guión, lo que se convierte en un obstáculo para la plena efectividad de su actuación.
Entre las caracterizaciones secundarias merecen destacarse Vanessa Redgrave que adopta a la perfección el modo de hablar sureño, lo que es más de admitir por tratarse de una actriz británica y Jane Fonda que dota al personaje de Nancy Reagan de una determinación y una seguridad muy destacada.