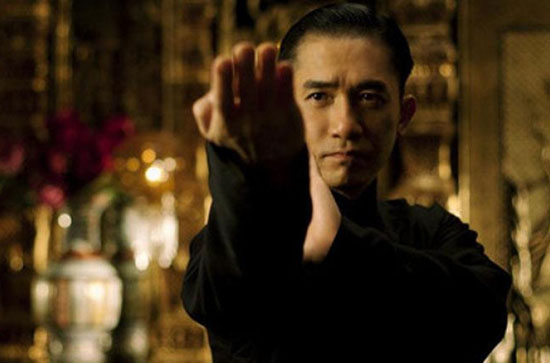 Visualmente espléndida por la fuerza de sus encuadres y la belleza de sus tomas, The Grand Master, cinta dirigida por el realizador chino Wong Kar Wai fue seleccionada para abrir el más reciente festival internacional de cine de Berlín y, aunque no figuró en la competencia oficial, sí respondió a los criterios que suelen determinar la selección de la película con que se abre un festival mayor: belleza pictórica evidente, amplitud del relato y/o autoría reconocía. En su caso, la cinta de Kar Wai se convierte en una biografía del maestro de kung-fu del famoso intérprete de artes marciales, Bruce Lee.
Bruce Lee se dio a conocer y se impuso en las pantallas del mundo en los años setenta del pasado siglo y su temprana muerte puso punto final a una carrera fílmica en ascenso. La misma provocó una serie de cintas de artes marciales procedentes de Hong-Kong, protagonizadas por nuevas figuras.
The Grand Master pretende ser tanto una biografía de ese gran maestro de Bruce Lee al que alude el título dado al filme como una recreación artística del kung-fu. En manos de Kar Wai adquiere subido valor estético, con las manos tanto más que los pies de los ejecutantes destacándose en forma especial.
Es también una película de connotaciones históricas evidentes que revelan aspectos de la sangrienta invasión de China por los japoneses ocurrida en la década de los treinta como de los cambios sumamente dramáticos en la vida política de esa nación. Estos cambios inciden en la vida del personaje central que de practicante destacado de kung-fu pasa, al ser seleccionado, a enfrentarse con un venerable maestro de las artes marciales, procedente del norte de China. Este personaje central acaba exiliandose en Hong-Kong. Allí transcurren sus últimos años y se insinúa una relación amorosa que no llega a consumarse con la hija del veterano maestro del norte.
La película cuya duración inicial era de poco más de dos horas, ha sido reducida en unos 30 minutos por lo que sufre por esa poda, de cierta oscuridad en el desarrollo de su trama. Lo que sí resulta extraordinario es la sucesión de tomas, caracterizadas no sólo por su esteticismo sino por la preferencia del director por la filmación de las mismas bajo la lluvia o en suelos permanentemente mojados. Del mismo se establece un contraste muy marcado entre la armonía y belleza de los paisajes y la fealdad manifiesta con que se presentan a los espectadores las secuencias que toman lugar en la que fue por tantos años colonia británica de Hong Kong, cuya devolución a China ocurrió en las postrimerías del siglo XX.
The Grand Master es un filme memorable porque se aparta de los de fórmula y acción incesante que tanto abundan sobre el kung-fu, para darnos en vez este relato en imágenes poseedor de una reiterada belleza visual.