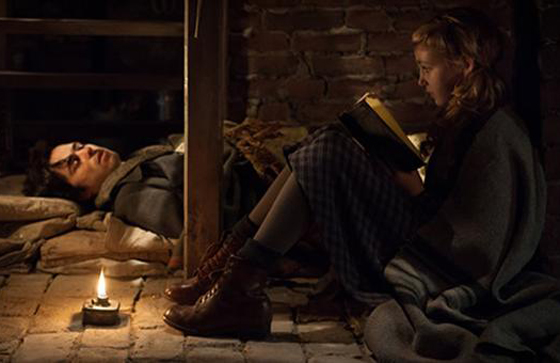 Abundan las películas sobre los horrores desatados por la segunda Guerra mundial por lo que una nueva cinta que toque ese periodo parecería que incide sobre territorio fílmico de sobra conocido.
Ese no es el caso de The Book Thief, filme recién estrenado en el que bajo la dirección de Brian Percival (el mismo que dirigiera Downton Abbey) e interpretado por Sóphie Nélisse, Geoffrey Rush y Emily Watson se convierte en ofrecimiento cinematográfico la novela escrita por Marcus Zusack, del mismo nombre.
Esta cinta concentra a su trama en una joven protagonista, Liesi, de unos doce años de edad que quedó abandonada tras la muerte de su pequeño hermano mientras su madre, acusada de ser comunista, escapa.
Liesi es acogida por un matrimonio de clase trabajadora en una pequeña ciudad de Alemania y allí transcurre su existencia, interrumpida por eventos catastróficos que se encargan de recordarle a los espectadores que el escenario de la película no es otro que el de la Alemania Nazi en el aciago período para esa nación y para el mundo transcurrido entre los años 1938 y 1945 (la etapa inmediatamente anterior al estallido de la segunda Guerra mundial y los años de la Guerra, terminados con la rendición de una Alemania totalmente devastada, en el año 1945).
Esos sucesos incluyen "la noche de los cristales rotos" (1938) en que las fuerzas al servicio del régimen nazi destruyeron miles de establecimientos pertenecientes a los judíos y procedieron contra ellos; los juegos olímpicos en que para sorpresa y furor de Hitler el gran vencedor no fue otro que Jesse Owen, atleta norteamericano que daba así al traste con el mito de la superioridad aria en todos los campos, incluido el deportivo y luego los años en que se libró el conflicto con su escuela de peligros y conscripciones forzadas para hacerles frente a la ofensiva aliada.
Esos sucesos afectan la vida de los protagonistas del filme ya que los obligan a vivir en constante vigilancia y frecuente temor, ya que ocultan a un joven judío perseguido.
Liesi, en especial, se interesa por los libros y se hace de ellos de manera muy poco ortodoxa por decir lo meno atizada por su deseo de saber. Sus relaciones con sus padres adoptivos van desde una tierna y afectuosa con su padre hasta otra, tensa y difícil, con la madre, por su carácter recio y fuerte. En especial, entabla una Hermosa relación con Mark, el perseguido, víctima como ella del régimen nazi, así como con Rudi, un niño que simpatiza grandemente con ella.
The Book Thief es un drama sentimental que deja algunos cabos sueltos en su trama pero que conmueve a los espectadores por sus mensajes, tanto el de aprecio de la lectura y de los libros como en especial el de solidaridad y ayuda a los seres humanos en peligro en tiempos difíciles como los presentados en el filme.
Sus actuaciones son de gran intensidad y poderío dramático en los casos de Geofrey Rush (Hans) y Emily Watson (Rosa), consumados intérpretes y adecuada en el supuesto de la joven protagonista, Sóphie Nélisse, canadiense de origen y gimnasta consumada. Compensa a su falta de registro dramático con su belleza y candor y compone una heroína juvenil que se gana las simpatías del público.