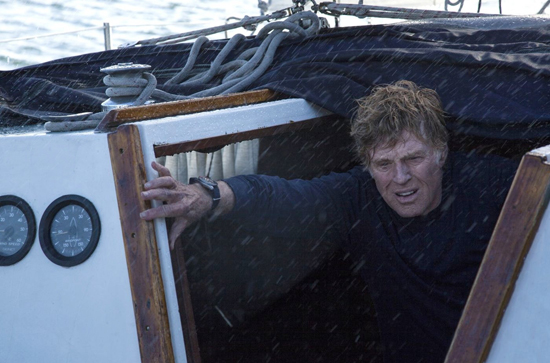 Los desastres marítimos han movido al cine a convertirlos en poderosos dramas. Películas como Lifeboat de 1944, obra de Alfred Hitchcock, presentan la suerte de un grupo de náufragos que sobreviven y se amontonan en los estrechos confines de un bote salvavidas.
Del mismo modo Tyrone Power protagonizó en los años sesenta un filme de gran intensidad dramática titulado Abandon Ship en el que el oficial a bordo de otro bote salvavidas opta por un terrible decisión y las varias versiones de lo que le aconteció al Titanic, la más reciente de las cuáles alcanzó un costo exorbitante y generó pingües ganancias, prosiguió con el tema en la pantalla.
Hoy, All is Lost entra a formar parte de esta colección de cintas trágicas y guarda cierto parecido en su trama con la de The Life of Pi ya que como ese filme cuenta con un sólo protagonista humano a bordo del bote salvavidas en que se refugia la figura central, al hundirse su velero en el océano Índico y no quedarle ninguna otra alternativa para intentar sobrevivir.
Estamos pues ante un filme que constituye una rareza cinematográfica en el sentido de que cuenta con un único personaje, carece de diálogos y utiliza muy parcamente la música que suele acompañar a las imágenes de toda película.
Pese a estos obstáculos la cinta se convierte en una proeza fílmica, debida tanto a su director y guionista, J.C, Chandor como a su protagonista, Robert Redford, ya que pese a tantos obstáculos como los citados, All is Lost mantiene el interés del espectador gracias a la continua actividad en que se envuelve su personaje central, primero para reparar el velero y, más tarde, para mantenerse vivo ya que enfrenta una devastadora tempestad. Más tarde una segunda tormenta lo expone aún más al riesgo de muerte inminente y – como si fuera poco tantos contratiempos- los tiburones abundan en las aguas del Índico y rodean peligrosamente al bote salvavidas.
El filme exige de su único actor un gran esfuerzo no sólo físico sino histriónico y Redford, un intérprete que ha estado presente en el cine norteamericano desde la década de los sesenta y que ha pasado de galán romántico en cintas como Barefoot in the Park y The Way We Were a realizador de importancia, merecedor del "oscar" por su trabajo como director en Ordinary People y cuyas recientes cintas tocan aspectos relevantes y a la vez controversiales de la democracia estadounidense (Lions for Lambas y The Conspirator), alcanza aquí una de sus caracterizaciones más conseguidas puesto que debe estar frente al público en casi todas las tomas y sostener su interés por la trama en progreso.
All is Lost exalta la habilidad y tenacidad del ser humano para sobrevivir no empece lo difícil de las circunstancias en que se encuentre.