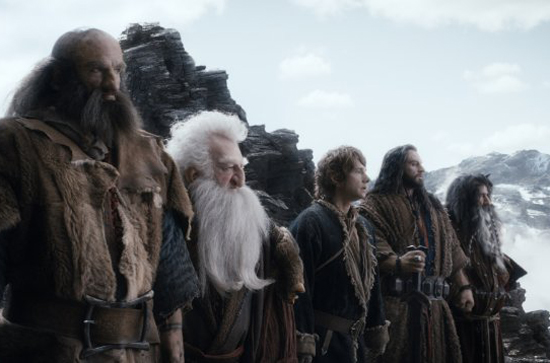 The Hobbit: The Desolation of Smaug, es la segunda película de la trilogia en progreso basada en la obra de J.R.R. Tolkien del mismo nombre. Esta nueva entrega ha sido dirigida como la anterior por Peter Jackson. Jackson es un director oriundo de Nueva Zelanda que ha dedicado varios años a la tarea de convertir en filmes tanto a The Hobbit como con anterioridad a Lord of the Rings, tarea nada fácil dado lo aparatoso y espectacular de ambos proyectos fílmicos.
En el caso de The Hobbit: The Desolation of Smaug, el realizador ha contado con la presencia de un elenco procedente de varias naciones: Estados Unidos, Gran Bretaña. Australia y Nueva Zelanda, país en el que también se rodaron muchos de los exteriores.
La cinta, por tanto, pertenece al género épico de carácter mítico pues su acción transcurre en la "tierra media", producto de la imaginación de Tolkien, poblada de criaturas de nombres diferentes, entre ellos los enanos que quieren reconquistar su lugar de orígen, contando para ello con la indispensable ayuda del hobbit Bilbo y del mago Gandalf. Ambos son necesarios para la temeraria y audaz empresa pues se requiere de grandes dosis de hechizos y encantamientos para vencer tan formidables enemigos como los que se encuentran los personajes en su camino. Bilbo, diminuto y de escasas fuerzas tiene en su poder el anillo mágico que lo dota de energía y de valor suficientes, cuando éstos le hacen falta.
El resultado en pantalla es el de una producción con ingentes recursos para convertirse en realidad fílmica, lo cual se hace evidente a los espectadores, y con un aparato técnico impresionante como lo evidencian las secuencias del filme.
Tres sobresalen y se destacan sobremanera. Son la de los encuentros con las arañas gigantes en un bosque embrujado que el grupo tiene que atravesar si desea llegar a su destino; la caída en barriles por cascadas en un río traicionero de los protagonistas, mientras son de continuo hostigados por sus opositores y la prolongada secuencia final en que Bilbo se enfrenta al formidable dragón que es Smaug mientras algunos otros de los personajes de importancia atraviesan también por pruebas que parecen imposibles de vencer.
En particular la secuencia del encuentro entre Smaug y Bilbo a más de ser demasiado larga se resiente de la conversación sostenida entre ambos, que resulta demasiado extensa.
El filme, pese a todos sus recursos técnicos y los logros representados tanto por los efectos especiales como por la partitura musical que resulta de una brillantez destacada, llega a abrumar por la acumulación de situaciones peligrosas y el gran número de sus personajes.
La cinta protagonizada como el primer filme de la trilogía por Ian McKellen en el papel de Gandalf y Martin Freeman como Bilbo, cuenta con un reparto en el que tambien figura Orlando Blum en el rol de Legolas, un personaje que apareció en Lord of the Rings. Todos ellos aportan la necesaria competencia histriónica pero la película como un todo es una creación de Peter Jakson, que se ha tomado sus libertades con el texto adaptado para crear una vez más en la pantalla ese mundo mágico y mítico de la "tierra media".