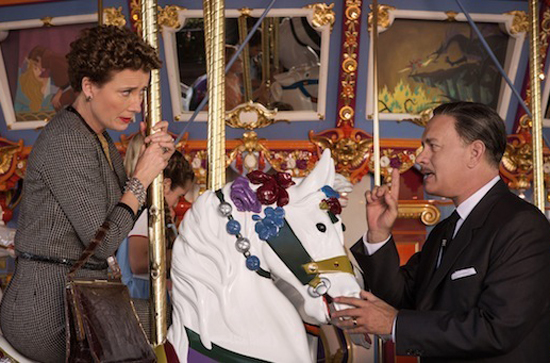 Las películas son el resultado de un complejo y dilatado proceso en el que varios equipos unen sus talentos para convertirlas en realidad fílmica. Ese proceso no es fácil sino todo lo contrario, dificultoso. Uno de esos casos es el de la cinta titulada Mary Poppins, estrenada en el año 1964 y uno de los grandes triunfos de Walt Disney que contó para animar el rol de Mary Poppins con la insuperable heroína de The Sound of Music, Julie Andrews.
La dificultad, la gran dificultad, que tuvo que superar Disney para llevar a la pantalla al personaje salido de la pluma creativa de la autora, P.L Travers ( cuyo verdadero nombre era el de Helen Goff y su lugar de origen, la lejana Australia, donde había nacido a comienzos del siglo XX) fue convencer a la autora para que firmara el contrato mediante el cual traspasaba los derechos fílmicos de su amado libro.
Ese proceso es el que se describe en Saving Mr. Banks, un filme en el que la actriz inglesa Emma Thompson asume el rol de la escritora en tanto que Tom Hanks se ocupa de revivir a Walt Disney. Figuran también en el reparto Colin Farrell y Paul Giamatti.
La cinta, dirigida por John Lee Hancock, mantiene el interés gracias a la soberbia actuación de Emma Thompson secundada por Tom Hanks. Thompson interpreta a la exigente autora como impertinente en grado sumo y se muestra a los espectadores como una mujer intransigente y desagradable, a la que no le satisface nada de los Estados Unidos, ni la populosa ciudad de Los Ángeles, ni sus habitantes y aún menos Disney y sus colaboradores. Fue pues ese procesos de convencerla para que firmara el contrato una tarea que requirió paciencia, diplomacia y la habilidad para los negocios que distinguía a Walt disney.
Podría pensarse que sostener el interés en una película de dos horas de duración a base de los desencuentros entre la Travis por un lado y Disney y su equipo por el otro, llegaría a convertir el filme en monótono y cansón.
No sucede así, sin embargo, porque el guión establece de continuo un ir y venir entre el presente y el pasado de la autora, correspondiente a su años de infancia y crecimiento en Australia. Se caracterizó ese período de su vida por el culto a su padre, ampliamente correspondido, no empece su alcoholismo y su erratismo que lo llevaron a perder más de un trabajo y lo colocaron en el precario estado de salud que lo llevaría a la muerte.
Travers, o mejor dicho Helen Goff, quedó siempre marcada por esos años y esa relación a la que el argumento de la cinta le atribuye su agria y conflictiva disposición en su vida adulta.
Filme en que se combinan los momentos risueños con los dramáticos, la cinta es un triunfo interpretativo de Emma Thompson, dos veces ganadoras de "óscares" y la gran perdedora de este año al anunciarse las actrices nominadas para competir por la famosa estatuilla dorada, cuya receptora será proclamada el venidero dos de marzo en Hollywood.