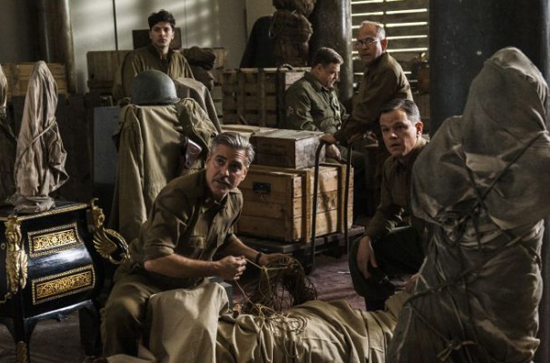 El género bélico continúa vigente en el cine por dos razones. La primera es que siguen existiendo, desafortunadamente, los conflictos armados alrededor del mundo y la segunda consiste en el impacto que dejaron las dos guerras mundiales del pasado siglo, especialmente la segunda, de mayor alcance global, causante de horrores tales como el genocidio que ha dado lugar a tantas películas.
Es precisamente el género bélico al que pertenece la cinta de estreno, The Monuments Men, dirigida por Georges Clooney y en la que participa un elenco formado a más de por Clooney, por Matt Damon, Bill Murray, John Goodman, Jean Dujardin, Hugh Bonneville, intérprete británico que se destaca en la popular serie de televisión titulada Downton Abbey y Bob Balaban. La única figura central femenina de este filme es Cate Blanchett, fuerte candidata al "oscar" de mejor actriz protagónica del año 2013.
La cinta basada en hechos reales, nos muestra una visión distinta de ese sangriento conflicto que fue la segunda guerra mundial, ya que gira en torno a los esfuerzos de un pequeño grupo de interesados en el rescate y conservación de las grandes obras pictóricas, escultóricas y de otra clase robadas por los nazis y/o su localización antes de que las mismas sean trasladadas a Alemania.
El grupo del que forman parte un profesor de Harvard, un arquitecto, un escultor, un historiador y un marchante se alista en el ejército norteamericano y se desplaza a Europa, tras recibir el debido entrenamiento, en busca de dichas obras entre las que se encuentran una escultura debida a Miguel Angel, única de sus piezas localizadas en Brujas, fuera de Italia y un retablo valiosísimo del arte medieval que se hallaba en la catedral de Gante.
En esas andanzas se exponen a todo tipo de experiencias algunas muy trágicas y conocen así los horrores de la guerra.
The Monuments Men se distingue por su ritmo, sobre todo a sus comienzos, cuando se establece el motivo del filme y el modo como se llevará a cabo; las aperturas hacia lo sentimental y patriótico e, incluso, la probabilidad de una relación amorosa, posibilidad que ocurre entre el personaje que interpreta Matt Damon y el de Cate Blanchett. Esta personifica a una curadora, que trabaja en un museo parisino y que siente una animosidad manifiesta hacia los nazis, como una de las secuencias de la cinta se encarga de mostrar.
The Monuments Men sobresale entre las películas de guerra por su enfoque diferente, del que conocemos en Puerto Rico gracias al libro escrito por el periodista Héctor Feliciano.
El filme es ejemplo del cine de Hollywood con sus bien conocidas notas de proveer una aproximación fílmica ágil y dinámica a un problema de relevancia, presentando con las características que distinguen a ese cine, sobre todo la abundancia estelar y la acción manifiesta.