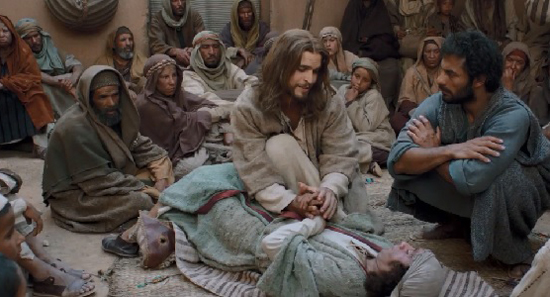 Basada en la mini-serie televisiva, The Bible, la película Son of God es una nueva aproximación del cine a la vida de Cristo, cuya presencia fílmica es casi tan antigua como la aparición del cinematógrafo. En efecto ya en 1905, un realizador francés, Ferdinand Zecca, presentaba con las rudimentarias técnicas de aquellos tiempos, el filme titulado La pasión de Notre Seigneur Jesus-Christ.
Desde comienzos del siglo XX han abundado las cintas tanto silentes como sonoras sobre Cristo. Las hay de mayor antigüedad y también de evidente modernidad como The Passion, el acercamiento debido a Mel Gibson que se concentra en su dolorosa pasión y muerte y que abunda en la violencia desplegada hacia el Crucificado. Proceden esas cintas de muy diversos cines nacionales existiendo no sólo películas norteamericanas sino británicas, francesas, italianas y mexicanas sobre Jesús, sus enseñanzas, pasión y muerte, siendo la mejor la de Pier Paolo Pasolini titulada El evangelio según Mateo.
Hoy Son of God muestra de nuevo en imágenes la vida del Redentor y lo hace a base de un guión que se sirve de los pasajes evangélicos, relacionándolos de forma tal que los mismos aparezcan fluidamente en la pantalla.
La cinta ha sido rodada en Marruecos, cuyos paisajes desérticos y desolados se hacen pasar por Palestina. Su protagonista es un actor portugués, Diego Morgado y la figura que aparece como María, la madre del Salvador, es también la productora de la película, Norma Downey.
Son of God se inicia con un prólogo fílmico en el que se nos ofrecen grandes eventos y personajes de la Biblia anteriores a Jesús. Incluyen desde la creación del mundo y la expulsión de Adán y Eva del Paraíso y otros pasajes trascendentales del antiguo testamento, hasta llegar a Cristo.
El guión utiliza la técnica de la alternación, oponiendo a la figura de Cristo la de sus antagonistas, el sumo sacerdote Caifás, Poncio Pilato, caracterizado por su dureza y crueldad así como Claudia Prócula, su esposa, ansiosa de que su marido no se meta con ese justo, por el que tanto ha padecido en sueños, y por supuesto Judas Iscariote.
Cinta que combina lo esencial de la vida de Jesús y su doctrina, Son of God se sirve para su presentación de lo íntimo y lo espectacular. Lo hace a base de dar frecuentemente tomas lejanas de los personajes que aparecen así empequeñecidos ante el paisaje, empequeñecimiento que sirve para destacar lo difícil de la misión del Salvador, encomendada por él a unos pobres pescadores.
Del mismo modo a medida que se hace claro el conflicto entre Cristo, de una parte y los que detentan el poder se utilizan grandes planos de los rostros y cuando se intensifica la pasión se recurre a la demostración únicamente de la boca a los ojos de Cristo.
La cinta ha sido dirigida por Christopher Spencer y cuenta con un numeroso reparto en el que se destacan Paul Marc Davis como Simón, el fariseo; Greg Hicks personificando a Pilato y Adrian Schiller que se hace cargo del rol de Caifás.