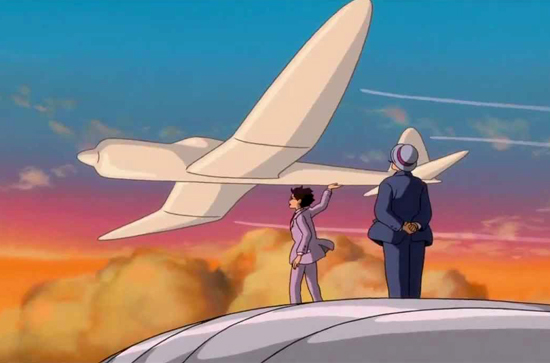 Una de las cinco cintas nominadas por la membresía de la Academia para el reconocimiento a la mejor película animada de largometraje de 2013, The Wind Rises, fue la más diferente entre las que concursaron por ese "oscar", concedido en definitiva a Frozen.
Las diferencias son tanto de origen – se trata de un filme japonés – como de tema- no estamos ante una cinta animada al estilo de las norteamericanas, ricas en acción y diseñadas para ser vistas sobre todo por un público infantil y juvenil. Añádase a lo expuesto que la animación utilizada en esta cinta es de corte tradicional, hecha a mano, a diferencia de los nuevos filmes animados que responden a técnicas de animación digital.
The Wind Rises sitúa su trama en un conflictivo periodo de la historia moderna del Japón (los años veinte y treinta del siglo veinte) y se centra en la vida de Jiro Horikoshi, ingeniero aeronáutico cuya creatividad y logros técnicos hicieron posible la existencia de los aviones "Zero" utilizados por esa nación durante la segunda guerra mundial.
La película ha sido dirigida por el realizador Hayao Miyazaki y la cinta constituye su contribución final al género de animación. Obras anteriores de Miyazaki vistas entre nosotros incluyen Spirited Away (receptora del "oscar" en el año 2002 y Howl's Moving Castle, exhibida tres años más tarde). El propio Miyazaki escribió su guión que combina tanto aspectos históricos como biográficos a los que se añade una triste y sentimental historia de amor. El resultado en pantalla es muy diferente al de los filmes de dibujos animados a lo Walt Disney.
The Wind Rises, doblada al inglés utiliza las voces de Joseph Gordon- Levitt para el personaje central de Jiro y la de Stanley Tucci para el diseñador italiano de aviones, Giovanni Vaproni, que fue la fuerza inspiradora de su trabajo, la cinta resulta no sólo históricamente detallada sino fina y delicada en lo que a su estética se refiere. Como ejemplo de su historicidad presenta muy a lo vivo el terremoto y fuego subsiguiente destructores de Toquio en la década de los años veinte.
Su animación resulta contrastante, acentuando los tonos oscuros en las secuencias relativas al remoto y a la desolación que le siguió así como en las escenas ambientadas entre los militares nipones.
En forma muy diferente, alegres y ricas en color, se muestran las secuencias de los sueños del protagonista en qué imagina que se encuentra con el italiano Caproni. Del mismo modo se inician idílicas las que desarrollan los amores de la figura central, que luego se ensombrecen al enfermar su amada a morir.
The Wind Rises es un proyecto muy ambicioso que abre nuevas posibilidades a las cintas de animación, pero que resulta menos imaginativo y vivido que Spirited Away, la cinta previa de Miyazaki, receptora del "oscar".