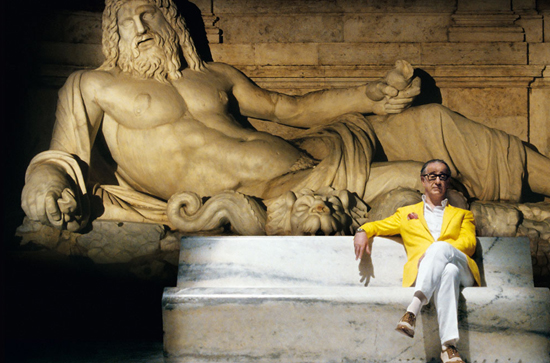 Ganadora del "oscar" que anualmente concede la Academia de Artes y Ciencias Cinematográficas a la mejor película en lengua extranjera, The Great Beauty, coproducción italofrancesa es -ante todo y sobre todo- un filme muy personal, pues carece de una trama de tipo convencional y se centra en vez de ofrecernos momentos y situaciones vividas por su personaje central.
Este, un provinciano llegado a la Ciudad Eterna décadas anteriores al tiempo presente, es ya un individuo de 65 años que, hastiado de la vida que ha llevado y que aún persiste en elevar, recuerda situaciones del pasado mientras se envuelve en un torbellino de sensualidad desbocada asistiendo noche tras noche a reuniones en las que todo es posible, refiriéndonos así a los excesos de toda índole que se muestran de continuo en la pantalla.
La cinta, sin embargo, es más que un recorrido hedonístico por el mundo de los placeres sensuales pues ofrece, a la vez, imágenes asombrosas y extraordinarias en las que se combinan el pasado venerable de la ciudad, representado por sus ruinas y monumentos como el Coliseo, con otras de experiencias de todo tipo que se dan en la Ciudad Eterna.
Así los personajes pueden verse tomando parte en una reunión al aire libre, temprano en la mañana, mientras intentan practicar la meditación, o exponiéndose a una reunión nocturna en la que una suerte de "adivino" les predice su futuro, sin olvidarnos del encuentro con una jirafa y su entrenador, capaz de hacerle creer al público que el animal desaparece ante la vista de todos o escenas en que el protagonista descubre la verdadera historia de una seudo-intelectual, denunciándola como un fraude.
Hay un tercer elemento que destacar en este filme. Es la deuda que contrae a través de su personaje central como en varios de sus pasajes antes de The Great Beauty, un testimonio creativamente elocuente de la "dolce vida" romana, en su película titulada La Dolce Vita.
Como La Dolce Vita, The Great Beauty abunda en tomas muy cercanas a numerosos rostros que se vuelven así representativos de un mundo presidido por la diversidad y la decadencia. Del mismo modo, Jep, su protagonista, puede considerarse como un "alter ego" envejecido del personaje que tan bien encarna Marcello Mastroianni en la Dolce Vita.
Un filme, por tanto, distintivo y diferente, debido a Paolo Sorrentino, ganador con su primer largometraje, One Man Up, de los premios concedidos por el Festival de Venecia, al mejor director y al mejor guión en dicha muestra.
Una actuación fundacional, en el sentido de que de la misma depende el impacto máximo de la cinta, es la ofrecida por Toni Servillo en el rol central.
The Great Beauty se exhibe tanto con subtítulos en inglés como con subtítulos en español.