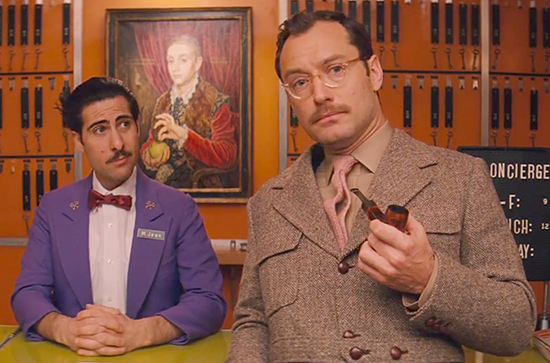 Fábula de tipo fársico, para los que no conozcan al director de The Grand Budapest Hotel, Wes Anderson o cinta dirigida por este para los que hayan visto The Royal Tennenbaums, The Life Aquatic with Steve Zissou o The Darjeeling Limited y están por tanto familiarizados con sus temas y estilo, así puede identificarse esta cinta.
Lo primero resume el argumento y las intenciones de esta cinta, cuya acción nos remonta al año 1932 y a un país imaginario del centro de Europa: Zubroska. Allí sucede la trama que lleva como personaje central a Monsieur Gustave (interpretado por Ralph Fiennes), miembro del personal que atiende a los huéspedes en toda clase de necesidades y que cuenta con la ayuda eficaz de unos botones, Zero, al que ha tomado bajo su cuidado.
Monsieur Gustave surge en la pantalla a base de los recuerdos de Zero, ya envejecido, que conserva con un huésped inglés de la hospedería, en tiempos más recientes y cuando la misma ha venido a menos.
Surge así una historia que combina elementos de películas de tensión y acción como lo es la persecución por parte de Dimitri, hijo de una acuadaladas huésped del hotel que ha muerto en el mismo, dejándole a Gustave un cuadro de gran valor, de Monsieur Gustave y Zero. Viene a continuación de secuencias de gran esplendor visual en que sobresalen tanto la camarografía como la ambientación y el vestuario (contribución de Milena Canonero) mientras una nómina crecida de intérpretes muy conocidos asumen diferentes papeles. Incluye a F. Murray Abraham, Tilda Swinton, Adrien Brody, Willem Dafoe, Bill Murray, Harvey Keitel, Jude Law y Edward Norton, por lo que se vuelve retante descubrir quién es quién, ya que algunos de ellos resultan difíciles de reconocer.
El argumento, por tanto, es complicado aunque conviene consignar que el tono fársico se da continuamente en la demostración de los personajes como en las situaciones presentadas en las que abundan elementos exóticos combinados con lo sorpresivo.
A nivel de actuaciones domina el filme la ofrecida por Ralph Fiennes en el papel protagónico presidida por la ironía, cual conviene a una figura como la de Monsieur Gustave. En menor grado, ese excelente actor que es F. Murray Abraham también se hace notar, sobre todo al comienzo de la cinta, por su embridada y a la vez poderosa caracterización del personaje que recuerda, que no es otro que el botones, apadrinado por Monsieur Gustave. Los demás intérpretes aparecen brevemente para hacer una duradera impresión.
La más disfrutable de las películas de Wes Anderson, The Grand Budapest Hotel es muy representativa de los temas y situaciones preferidas por este realizador y se destaca por su espléndida fotografía y su presentación de ambientes pertenecientes a una época ya pasada.