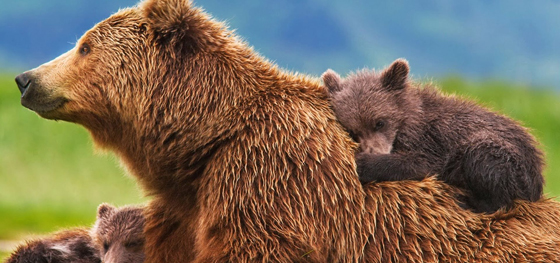 Coincidiendo con el Día de la Tierra se estrenó la película Bears. Es un documental procedente de los estudios que fundara Walt Disney centrado en los osos. No es ni el primero ni el único filme en que estos animales aparecen. Lo han hecho antes, para citar tan sólo unos pocos ejemplos, en películas de Hollywood y también han aparecido en cintas de directores tan reconocidos como Jean- Jacques Annaud, realizados de The Bear, filme que data de 1989 o Werner Herzog, autor de The Grizzly Man, de 2005, película sobre el activista de los derechos animales, Timothy Treadwell, quien pasó numerosos veranos en Alaska, en estrecho contacto con los osos.
En Bears, cinta de muy reciente realización, los grandes protagonistas son los osos pardos, en particular una osa que tras hibernar se enfrenta pasado el invierno, al mundo de la naturaleza, tal como ésta se manifiesta en Alaska.
El animal está acompañado por sus crías, dos ositos de muy corta edad, a los que tienen que alimentar mientras emprende su viaje anual hacia la costa en busca de salmones.
Durante ese viaje se enfrenta a variados peligros, unos procedentes de los machos de su especie que, hambrientos como ella, no pierden de vista a sus cachorros con muy malas intenciones; otros proceden de los lobos que buscan la oportunidad para devorarlos y otros, en fin, son provocados por los desafíos de la naturaleza como la formidable avalancha de la que se apresuran a escapar.
La cinta introduce en forma alterna, otra lucha muy diferente. Es la de los salmones que nadando en contra de la corriente intentan avanzar desde la costa río arriba para desovar.
Filme difícil de rodar tanto por el ambiente en que se desarrolla su historia como por los retos que resaltan de estructurar una película cuyos "intérpretes" son unos animales carentes de variedad expresiva, el filme se convierte un logro que hay que acreditar a sus directores Alastair Fotergill (realizardor de Chimpanzees) y Kaith Scholey (director de African Cats) e iguualmente a los miembros del equipo, sobresaliendo los trabajos de los camarógrafos que recogen imponentes vistas de Alaska, captadas a menudo a gran altura lo que permite apreciar la grandiosidad de los espacios y de los editores que logran darle a lo filmado coherencia e intensidad dramática.
Bears, es por tanto un filme diferente en el panorama de estrenos que permite apreciar la majestuosidad asociada a regiones del planeta como Alaska y evidenciar asimismo la tenacidad, el empeño y el sacrificio que conlleva la maternidad para las especies del reino animal.