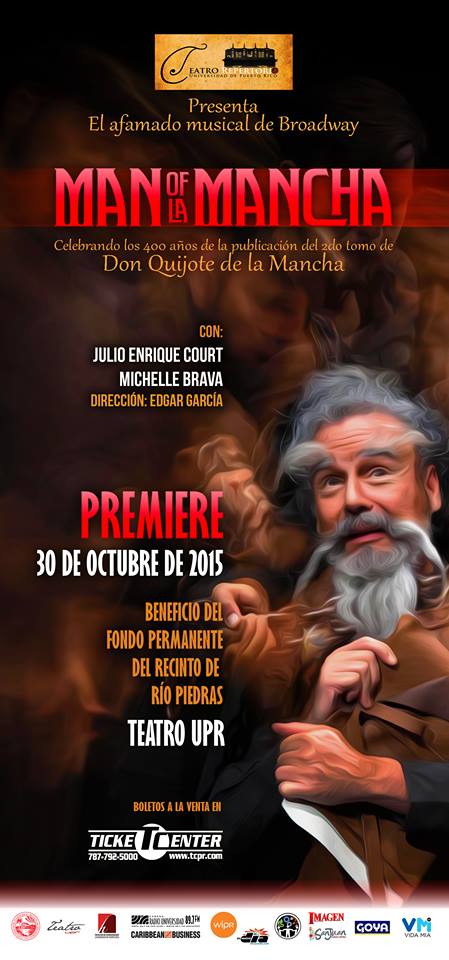 Teatro Repertorio del Recinto de Rio Piedras de la Universidad de Puerto Rico presenta el afamado musical de Broadway Man of La Mancha con Julio Enrique Court y Michelle Brava bajo la dirección de Edgar García ("Evita", "Into the Woods", "The Sound of Music"). La presentación escénica celebrando los 400 años de la publicación del segundo tomo de Don Quijote de La Mancha toma lugar en el Teatro de la UPR desde el viernes 30 de octubre hasta el 8 de noviembre.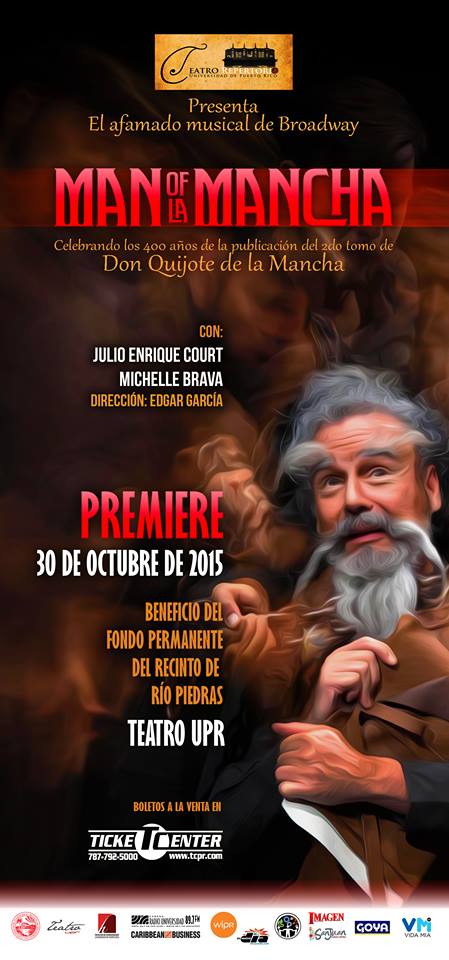 El musical estrenó en Broadway para el año 1965 y desde entonces, en dos ocasiones actores puertorriqueños le han dado vida al Quijote en Man of La Mancha: José Ferrer para los años 1965 y 1971 y Raúl Juliá en el 1992. Man of La Mancha esta basado en el libro del mismo nombre del autor Dale Wasserman. A continuación una mirada al desarrollo creativo de Dale Wesserman.
El elenco actoral se compone de sobre 25 actores y el elenco musical de más de 20 músicos, orquesta que tocará en vivo bajo la dirección de Samuel Morales. La dirección vocal estará a cargo de Aidita Encarnación, la coreografía de Omar Nieves, la escenografía por José Manuel Díaz con luces de Ismael Franco Muller, y el vestuario estará bajo la dirección de Miguel Vando.
Man of La Mancha se presenta a partir del viernes 30 de octubre en funciones a las 8:00 de la noche y domingos a las 4:00 de la tarde. Las funciones escolares comienzan el 21 de octubre a las 10:00 am. Para información y/o reservaciones de estas funciones escolares comunicarse al correo manoflamanchaupr@gmail.com o al teléfono 787 503-5288.
MAN OF LA MANCHA – Versión en español
Comenzando el 30 de octubre | Boletos en tcpr.com o en el (787) 792-5000. Para funciones estudiantiles llamar al (787) 503-5288.