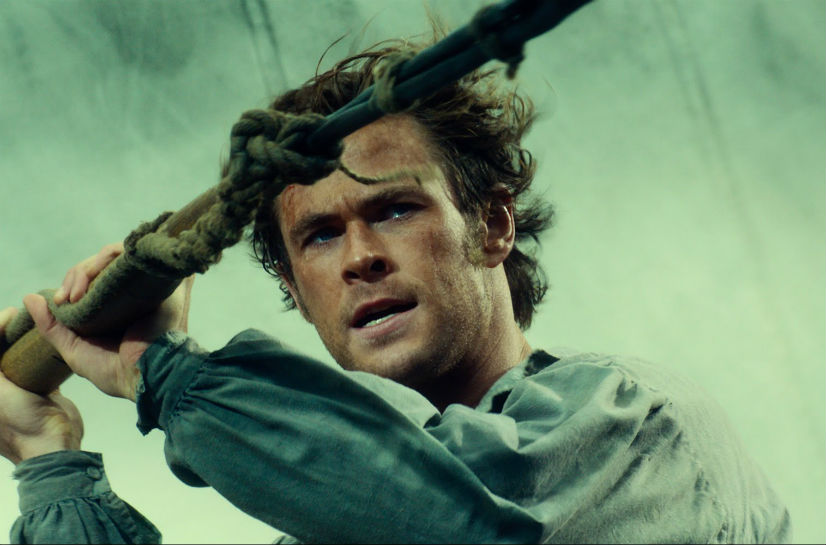 ¿En qué se inspiró Herman Melville, novelista norteamericano cuya obra más famosa es Moby Dick, publicada en 1851?
Según la película de estreno, In the Heart of the Sea, se inspiró en la conversación que sostuvo y que duró toda una noche con el último sobreviviente del ballenero Essex. Ese barco zarpó en 1821 de las costas de Nueva Inglaterra en busca de ballenas en un largo y azaroso viaje. Este terminó con su naugrafio, seguido por la peligrosa travesía de los pocos sobrevivientes por las aguas del Pacífico.
Esa travesía del Essex es la que se recrea en la pantalla a base de los recuerdos del atormentado marino con el que entrevista Melville.
Estamos, por tanto, ante una cinta que se desarrolla en dos tiempos: el presente, que ocupa poco tiempo de total de duración de la película y ese pasado que se concentra en los sucesos del viaje y en el atemorianzante encuentro con la enorme ballena blanca, decidida a perseguir a los tripulantes del Essex.
In the Heart of the Sea, dirigida por Ron Howard y protagonizada por Chris Hemsworth resulta de mayor impacto en sus secuencias iniciales y en las conclusivas. En ellas hacen claras las poderosas razones de los adinerados dueños de los barcos balleneros de anteponerlo todo: vidas y seguridad de los marinos a su afán de lucro. Este los mueve a tratar de sobornar al capitán y primer oficial de Essex para que oculten la verdad de lo que realmente le aconteció a ese barco.
Lo que domina el filme y lo que posiblemente mueva a los espectadores a ver la película son sus bien logradas secuencias, descriptivas tanto de la furia del mar embravecido que parece arrasarlo todo al desatarse una formidable tempestad, como de los repetidos ataques de la ballena blanca -y aunque nada puede compararse a la furia de lo elementos- es el conflicto humano el que presenta los más dramáticos matices. Ese conflicto permite que Chris Hemsworth en el papel más importante de la película, el del primer oficial del Essex, Owen Chase, pueda intentar la competencia con el aparatoso despliegue tecnológico que domina la producción.